Jan 15 2019 7:48 AM
SANLORENZO SHIP BUILDING BACK TO FULL ITALIAN OWNERSHIP
Sanlorenzo, an Italian shipbuilding company based in Ameglia, Viareggio and La Spezia, Italy, specialises in the design and production of made-to-measure yachts and superyachts from 24 to 70 metres (79 to 230 ft) in length. They have successfully brought to the market SEVEN SINS, SCORPION, REVE D'OR, MOKA, TESORO, and many more! They have been part of the pivotal movement of builders encouraging and spotlighting larger yachts over the past few years (refer to bar chart below).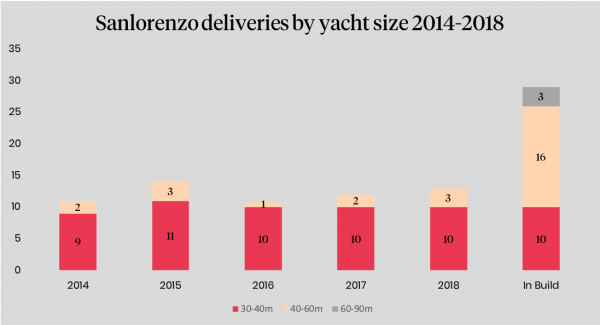 In 2013, during a time of harship for the Italian company, 23 percent had been sold to the Chinese Company Sundiro Holding. This transaction was done with the additional understanding of supporting Sanlorenzo's partner in aiding and developing the below 20 meter luxury yacht market in China. However, it has come to light that the chairman and CEO, Sir Massimo Perotti, has now bought back those shares, giving the Perotti family a now 96% ownershup of Sanlorenzo shares. This includes ownership through Happy Life Holding, co-owned by Sir Perotti and his two children. This recent repurchase comes shortly after another repurchase of Sanlorenzo's shares from Fondo Italiano di Investimento (who obtained those shares in 2010), where 16% of shares returned back to Perotti. The remaining shares are now held by Sanlorenzo's management team, dictating that Sanlorenzo is back to full Italian ownership, with positive growth and further investment in larger luxury yacht builds.
This news is beneficial for the luxury yacht charter market due to the expertese Sanlorenzo holds in the mid-sized range of luxury yachts. The most popular yachts chartered commercially in the maritime industry fall between 35-60 meters, a yacht length range in which Sanlorenzo invests and builds in generously. With a more personal hold on its own company, the quality, structure, and time invested in the upcoming yachts will improve as the company ascends to its financial stabilization. With its most recent Superyacht line being launched, which includes metal-hulled superyachts from 50 to 64 metres (164 to 210 ft) in length, for a total of five models: 40 Alloy (2007), 460EXP (2015), 46Steel (2010), 52Steel (2015), 64Steel (2016), we look forward to the luxury charter gems Sanlorenzo produces from this point onward.